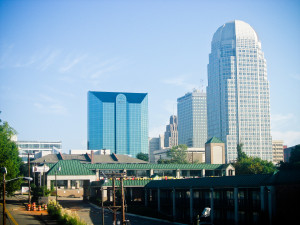 There are many choices for who to call when you need a new roof in Winston Salem, NC and in the surrounding areas like Clemmons, Advance, Yadkinville, Lewisville, King and even as far to the east as Greensboro.  We pride ourselves in being local. Owner & Founder Strisand Hodges was born & raised right here in the Winston Salem area. In a recent interview, he said, "I'm happy that I have developed a trade that allows me to help my neighbor. When a roof leaks it can quickly escalate into a much bigger and more expensive problem than just the roof repair. Getting the problem fixed right away can be the difference between hundreds and thousands of dollars in repair costs. I understand that and we always answer the call." We may not be the biggest roofing company in Winston Salem but we do provide the best roofing services available by anyone in the Winston Salem market. With nearly two decades of experience working in Forsyth County we are always eager to prove our quality and attention to detail.
"I'm happy that I have developed a trade that allows me to help my neighbor. "
So when you need a roof repair or a new roof or even if you're not sure what you need, give us, Hodges Roofing a call. We promise to take good care of you, our neighbor. We will provide you with a free estimate, solutions and options based on our years of expedience and when you contract with you  can be confident that you made the right.choice. With us, you'll deal directly with the owner not a commissioned sales rep. Each job that we do becomes part of our highly regarded reputation.
Have a roofing need or issue? Check out our website for more information or Call now to speak with someone that can help. 336-391-2799